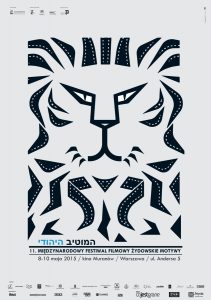 [english below]
8-10 maja 2015 – już 11. edycja!
11. Międzynarodowy Festiwal Filmowy ŻYDOWSKIE MOTYWY // 11th Jewish Motifs IFF
Filmy o historii i tradycji narodu żydowskiego, jego kulturowej tożsamości, jak i te podejmujące aktualne tematy społeczno-polityczne.
W konkursie:
24 najnowsze i starannie wyselekcjonowane filmy
m.in. z Izraela, Niemiec, Polski, Szwecji, Szwajcarii, USA i nie tylko.
Zobaczymy zarówno filmy fabularne, dokumentalne, jak i krótkometrażowe.
Nagroda główna: Złoty Feniks.
Poza konkursem: debata "Co zagraża Polsce? O przemocy w słowach" (https://goo.gl/gzUpKw) i spotkania z autorami filmów.
Na wszystkie seanse wstęp wolny.
// ENG: 8-10th May 2015 – 11th edition!
11th Jewish Motifs International Film Festival
In the Festival: films on history and tradition of the Jewish nation, its cultural identity, as well as the movies on current socio-political themes.
In competition:
24 newest and highly selected films from Israel, Germany, Poland, Sweden, Switzerland, USA and other countries.
We will see feature films, documentaries, as well as short films.
Grand Prix: Golden Phoenix.
Beyond the competition: debate "What is Poland threatened with? Violence in words" (https://goo.gl/gzUpKw) and meetings with film authors.
Free entrance for all screenings.