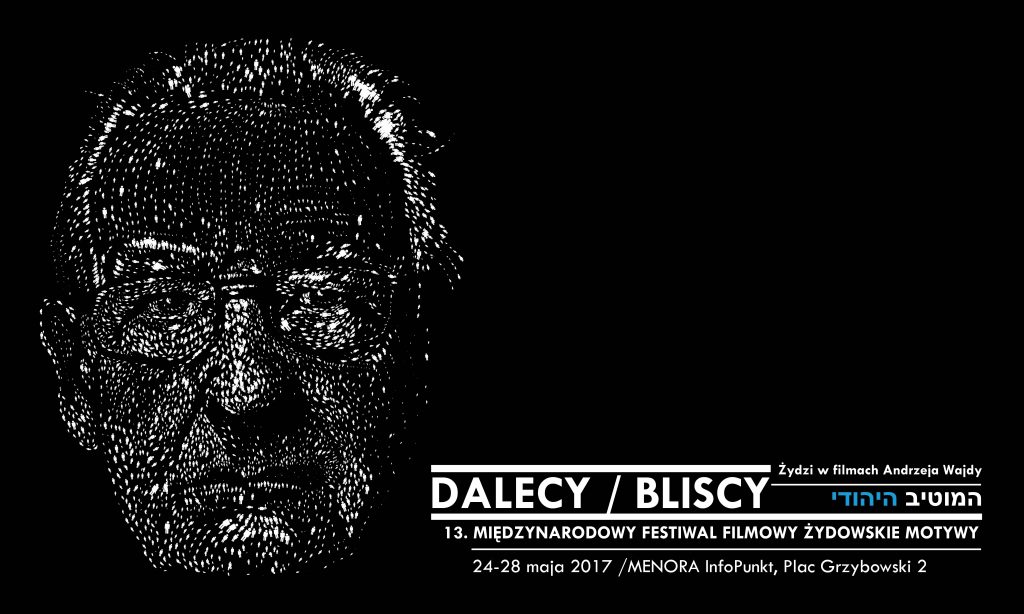 Ważnym punktem festiwalu będzie przegląd filmów Andrzeja Wajdy, w których istotną rolę odegrały motywy żydowskie. Widzowie zobaczą m. in. filmy "Samson" (1961), "Wesele" (1972), "Ziemia Obiecana" (1974), "Krajobraz po bitwie" (1970) oraz "Korczak" (1990).
Pokazy będą w polskiej wersji językowej filmów, z angielskimi napisami (oprócz filmu "Samson").
Zwieńczeniem przeglądu będzie zaplanowana na 27 maja debata "Dalecy / Bliscy. Żydzi w filmach Andrzeja Wajdy", podczas której zaproszeni goście będą analizować wagę i znaczenie wątków żydowskich w twórczości reżysera. W spotkaniu udział wezmą aktorzy Maja Komorowska i Wojciech Pszoniak, pisarz i krytyk literacki Piotr Paziński, prof. Szewach Weiss – b. ambasador Izraela w Polsce, oraz krytyk filmowy Mateusz Werner. Rozmowę poprowadzi krytyk filmowy Łukasz Maciejewski. Przed debatą, o godz. 16:00, pokaz "Wesela".
// An important part of the Festival's program is also a review of Andrzej Wajda films, in which the jewish motifs played an important role. The review would include the following films: "Samson" (1961), "The Wedding" (1972), "The Promised Land" (1974), "Landscape After the Battle" (1970) and "Korczak" (1990).
The screenings would be in Polish language version with English subtitles (exept "Samson").
The closure of the review is planned for the 27th of May with the debate "Distant / Close ones. The Jews in Andrzej Wajda films". During the debate, invited guests would analyse the role and meaning of the jewish motifs in Andrzej Wajda's works. Among panelists: Maja Komorowska and Wojciech Pszoniak – actors, Piotr Paziński – writer and literary critic, prof Shevach Weiss – fomer ambasador of Israel, Mateusz Werner – film critic. Moderation: Łukasz Maciejewski – film critic.
The debate will precede the screening of the "Wedding" (1972) film directed by Andrzej Wajda.